An employee of battery charger firm CTEK has been arrested by Melbourne police over alleged theft of trade secrets at a recent trade show.
The alleged  incident took place at the Australian Auto Aftermarket Expo held in Melbourne earlier this month. In a lawsuit filed in Ohio by the NOCO company, prosecutors allege that the employee stole a notebook containing sales strategy, contacts and other sensitive information.
CCTV footage confirmed the theft and the man was detained by exhibition centre security until local police came and made a formal arrest.
"We want to thank on-site security, members of the AAAA, and Melbourne Police for their efforts in arresting the individual," said Thomas Smith, Director of Public Relations. "Without their efforts, we would not be able to proceed with additional legal actions. Obviously, we are disappointed with CTEK's behavior, but it is further evidence of a possible systematic corporate mandate to attempt to curtail NOCO's growth in the marketplace. We are aggressively pursuing all of our legal rights and will not stop until justice is served."
In the lawsuit, NOCO is seeking damages and hopes to obtain 'injunctive protection against the use or dissemination of its trade secrets'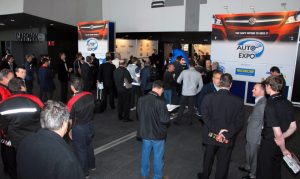 by CTEK.