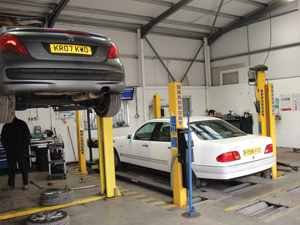 Phil Lowes says investing in his garage and in training his staff is key to keeping up with dealerships.
Starting up any business always requires a plan and a blueprint of how it will work and grow in its formative years, and Phil Lowes did exactly this four years ago when he opened Ludlow Hill MOT Centre.
What he didn't count on was that his entire business plan would be turned on its head as soon as he started.
"My plan was just to do MOTs, and a little bit of MOT repairs," Lowes said. "But when I started up, the MOT side of it was a bit slow, and back then the work split was 80-20. I was doing 80 percent of servicing and repairs and 20 percent MOTs, whereas my business plan was the other way around.
"It was a bit of a shock as I planned it to be MOTs with repairs, but it was us doing repairs and hardly any MOTs. We discovered that two thirds of the garage was taken up by MOT equipment, so we had to move the equipment around to fit another ramp in, which we did just over a year ago."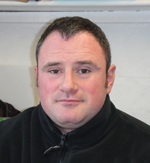 Although it initially came as a shock, Lowes believes there is a simple explanation why his garage has seen more servicing and repair work.
He said: "The bizarre thing was people who brought their cars to us with an engine warning or airbag light on, would then ask us whether we did MOTs. And you would think 'we are called Ludlow Hill MOT Centre', but they have only
known us as a garage which repairs their
car when it gets a fault."
Lowes had spent seven years being an inspector for VOSA, and it was his visits to assess other workshops that motivated him to open a garage of his own.
He never expected to experience such a culture shock as he did from running his own business, but four years on he acknowledges that investing into the business has paid dividends.
"I thought I needed to invest here, but I couldn't until I got some turnover so it became a bit of a
vicious circle. For the first four years all I have done is invest, invest, invest," said Lowes.
It is not solely investing in the garage and the equipment but also training up his staff. Lowes focuses mainly on the Institute of the Motor Industry's ATA qualifications due to the competency based assessments it asks for. He has also taken on an apprentice and can see the value in doing so after being part of the Rover programme in his youth.
Fitting in training courses into the garage's workload has proved to be a challenge, and in some cases it just means biting the bullet.
Lowes said: "It is very difficult to schedule time, sometimes you have to turn around and go: it's tough. You have got to go.
"We are always going to be a year or two behind main dealerships. Even some of them can't keep up with the technology they have been given, but if you keep the training up, it shortens the gap."
Courtesy cars have also proved to be a worthwhile investment, as it eases the pressure when tackling bigger jobs.
Lowes said: "They have been a good investment. I would like to buy newer, but they have been brilliant.
"On your big jobs it gives you massive breathing space. For example we have got a head gasket job on a Peugeot 307 and the cylinder head is away now to be crack tested and skimmed, but they might have it for two days so all of a sudden your head gasket turns into a week long job. But they have a car, and I will ring them when theirs is done and that works really well."