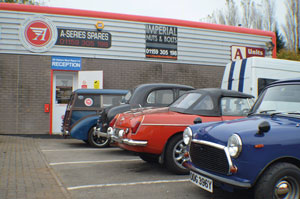 As the sun starts to reappear and signs of a glorious summer are on the horizon again classic British car firms like A-Series Spares are working overtime to ensure that owners have their pride and joy back before the peak of the warmer months.
But A-Series Spares is not just a garage specialising in restoration and maintenance of classics fitted with the BMC's A-Series engine, such as the Mini, MG Midget and Morris Minor. It also has engine rebuilding and race preparation facilities.
Alongside the busy workshop is a retail side to the business, which only came into existence five years ago. The one-stop-shop for classic car accessories, tools, spares, and products developed by A-Series such as nuts and bolts, flame retardent indoor and all-weather car covers and numerous security products are available to customers online as well as over the counter for the first time.
Engineer Martyn Stevenson, who originally started the workshop in the 1980s, explains where the retail side of the business originated from:
"The reason A-Series Spares came about was due to us struggling to find nuts and bolts. It is as simple as that. I could find nuts and bolts but they were absolutely rubbish. The Morris Minor is probably one of the worst cars to work with if you are rebuilding the sides, as the doors are heavy and putting on new panels means welding a bit more each time. At which point you are just fitting the bolts to hold the panels in place but very quickly the threads go. So my son Rob started looking around and found some certified bolts."
Owner Rob Stevenson added that now the business gets a full production run of nuts and bolts from America every quarter.
The shop itself had an online presence early on, with Rob explaining that from previous research sourcing spare parts for certain cars led to some non-user friendly websites, and as a result A-Series developed a website that encapsulated these models alongside the well supported Mini in an easy-to-navigate form. The retail shop, however, has only been going for less than a year after the business moved from its previous farm location to an industrial estate opposite a retail park in the middle of Ilkeston.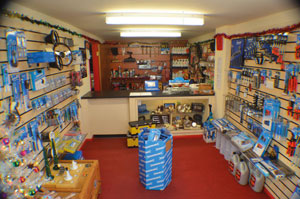 Rob says that the implementation of a retail element to the business keeps things ticking over, releasing any pressure on the workshop side of the business, adding:
"The internet contributes probably 90 percent of the retail sales, with 30 percent of our parcels sent abroad, many going to Australia. When we first set up the website, nothing happened in month one, we sold one item in month two and it has gone up to around 300 parcels a week.
Key to the success of A-Series Spares is a passion for classic British Leyland, Rover Group and Ford vehicles, so much so that Rob and Martyn have both looked at ways of helping owners protect their classics and enjoy some of the modern luxuries which current vehicles enjoy. Development for these products are done in-house and on the firm's Morris Minor Traveller, which is currently kitted out with full Ford running gear, electric windows, electric heated mirrors among other things.
But it is the company's alarms and central-locking systems that have proved a big hit with classic car owners' across the world, as Rob explains further: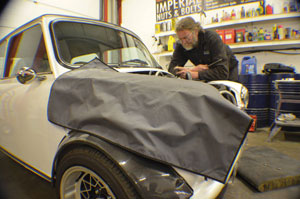 "There seems to be quite a large focus on classic cars, unfortunately a lot of people are not keeping them in garages and they have become a very easy target.
"Our tailored products started with the alarms, which was publicised through Mini Magazine doing a series of features on securing a Mini, because of a spate of thefts plaguing the country. We decided to develop tailored central locking and electric windows, as well."
A-Series Spares are set to take on a classic car apprentice for the first time, in association with a local college and the MG Owner's Club. The firm is also developing new products for its A-SD brand, with a revised all-weather outdoor cover set for release in the coming weeks.