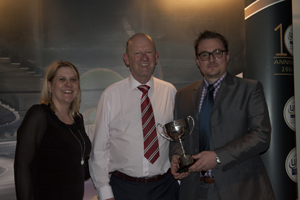 First Line has won the United Aftermarket Network's Car
Supplier of the Year Award.
Both Managing Director Dan Joyner and Commercial Director Alan Wood from The
First Line Group were on hand to collect the award at UAN's 10th anniversary member conference in Munich.
The Banbury-based distributor has now collected the accolade multiple times, and commended by UAN on numerous occasions throughout the last decade.
Joyner said: "The UAN is a very important group to FLG, and the great relationship we both have centrally at UAN head
office and with the individual members that make up the group, is fantastic."
"Over the last few years we have both enjoyed growth in our respective businesses and as we have grown, the relationship has also developed and flourished.
"UAN members are among the mort proactive in taking on the new products under the First Line, Borg and Beck and Key Parts brands and we are really impressed with their willingness to
embrace these new opportunities. This award means a great deal to us and we wholeheartedly thank the members for voting for us again."