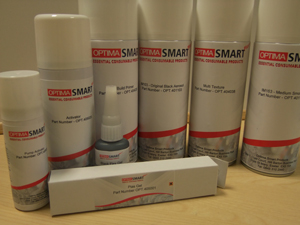 LKQ Coatings has launched an extensive range of consumables and smart repair solutions for the aftermarket.
It believes the new Optima Smart Plus range will help bodyshops maximise its opportunities in the express repair industry, which it values at more than £630 million.
The new range consists of fabric, velour, glass and leather repair kits, and a full range of plastic repair kits. There are also a selection of aerosols in 400ml cans perfect for touching up interiors and exterior body work, it also uses a mini paint system that allows any of LKQ's paint brands to mix and produce paint in
either 100ml or 250ml cans.
The comprehensive Intelligent Repair programme offered also includes alloy wheel paint and chrome effect fittings.
Richard Steer, Managing Director of LKQ Coatings, said: "This expansive range will provide quality, effective products to conduct a range of fast track applications enabling repairers to benefit from this high profit margin retail opportunity.
"To support the offering, our dedicated Smart repair team will visit customers to produce an Intelligent Repair Report that identifies opportunities and, importantly, missed opportunities that bodyshops and
dealerships can address by introducing our Smart repair products and solutions."
LKQ Coatings expects to add more products to its inventory soon.