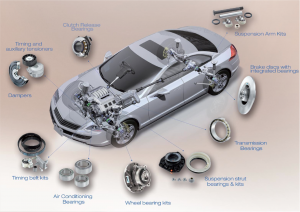 Fresh from joining OESAA, NTN-SNR has announced a host of new wheel references available for the independent aftermarket.
The extensions has seen 17 new wheel bearing kits, one brake
hub set and five wheel bearings added to its ranges.
The additions to the wheel bearing kits covers a number of vehicle applications, including the Honda Civic, Range Rover, Toyota Hilux and Prius, Mitsubishi Lancer, Pajero and Shogun, and Ford B-Max.
These kits are available through TecDoc's cataloguing system and consist of a number of front and rear bearing options.
The five wheel bearings additions to the range will cover 11 applications, including the
Dodge Caliber, Jeep Compass and Patriot,
Mitsubishi ASX, Lancer and the Mercedes-Benz ML.