PROMOTIONAL ARTICLE ON BEHALF OF PAGID
Pagid, the UK's biggest-selling braking brand, is helping the next generation of motor mechanics by supporting automotive courses at Further Education colleges in the UK.
The latest college to benefit is Kirklees College in West Yorkshire, and Pagid has provided the Motor Vehicle department with a demo car for students to carry out brake fitting and repairs. Pagid has also taken part in the College's Employability week with a guest lecture about apprenticeships and careers in the automotive engineering sector, and has invited the students to its braking performance testing ground in West Yorkshire.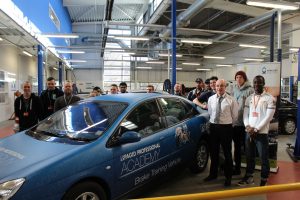 The Pagid branded car is a Citroen C5, originally chosen as a demo car due to the fact it has an unusual front handbrake, and Pagid hopes that it will teach students the necessary skills and versatility when they are fully qualified.
It is based at the college's specialist state of the art Engineering Centre, which includes maintenance and fabrication workshops, CNC and mechanical workshops, demonstration areas, classrooms, a large automotive workshop and spray booths.
Sadie Jones, Business Development Director IAM at TMD Friction said:
"At Pagid, we like to do our bit in helping the mechanics of tomorrow. The automotive department at Kirklees college is doing some great work, and it is rewarding to watch the students learning their brake fitting skills on the car we have provided.
We also supply Pagid technical bulletins and training materials to assist their studies and hope that it will all help them qualify with motor industry qualifications and succeed in the workplace".
James Halligan, Curriculum Team Leader for Motor Vehicle at Kirklees College:
"The automotive students at Kirklees College are certainly grateful to Pagid for the loan of this demo car, and for the advice and other support it has supplied.
It's so useful for our young people to be practising their skills on real cars, so Pagid's initiative is most welcome in Further Education institutes such as ours. They also talked to the students about future careers and invited them to Pagid's Proving Ground, where they can learn how braking performance is tested. It's all great experience and knowledge that will pay off when it comes to examination time".