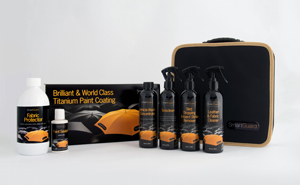 Paintseal Europe has extended its range of Smartguard products by
introducing an entry-level kit and customer pack.
The paint-coating package could be an opportunity for garages to boost their profits, by offering a couple of valeting solutions for their customers' vehicles.
The entry level kit, available from early April, is aimed at technicians, and consists of
100ml of paint protection coating, 450ml of fabric protection barrier, front windscreen treatment, premium wash concentrate and application cloths.
Workshops will also be able to offer customers cleaning products as an add-on, as Paintseal's kit includes birdlime remover, fabric and leather cleaner, paint surface
and alloy wheel cleaner, wheel cleaning brushes and a microfibre cloth.
Andy Bradbury, PSE Director, said: "Smartguard has proved itself more than capable of competing
against some very serious PTFE competition. We are offering bespoke, and white label packages where customers require them, offering customised and varied pack contents."
Smartguard is robust, hard wearing and easy
to apply, and comes with a four-year guarantee.