PROMOTIONAL ARTICLE ON BEHALF OF PAGID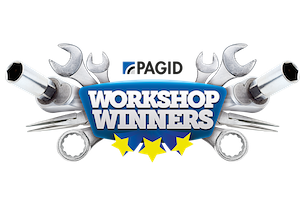 Pagid, the UK's biggest braking brand and part of TMD Friction, is to give a workshop in the UK a £10,000 upgrade, through their Workshop Winners campaign, taking place throughout summer.
Workshop Winners is open to any workshop that orders a Pagid product through Euro Car Parts throughout June and July.
The grand prize winner will receive a game-changing workshop upgrade, worth £10,000, while hundreds of instant wins will also be on offer.
The winner will be able to choose from the biggest range and best workshop equipment from Euro Car Parts Workshop Solutions – and Pagid will pick up the tab.
Instant wins include 18-piece pneumatic wind back toolsets, 10-piece pro brake toolsets, Workshop Winners t-shirts and A3 retro signs.
Sadie Jonas, Business Development Director IAM at TMD Friction said: "Workshops across the UK are working tirelessly day in, day out to serve their customers. Through our Proud to Fit garages, we already reward hardworking mechanics, but this summer we wanted to go one step further and give one workshop a game-changing £10,000 upgrade.
"I cannot wait to see the change this prize makes to the lucky grand prize winner, but Workshop Winners won't just reward one UK workshop – as we will see hundreds of prizes given out to Pagid customers throughout June and July."
Entrants to Workshop Winners must register their purchases at pagidwinners.com/enter and keep hold of invoices for proof of purchase, if selected as a winner. Find out more at pagidwinners.com.