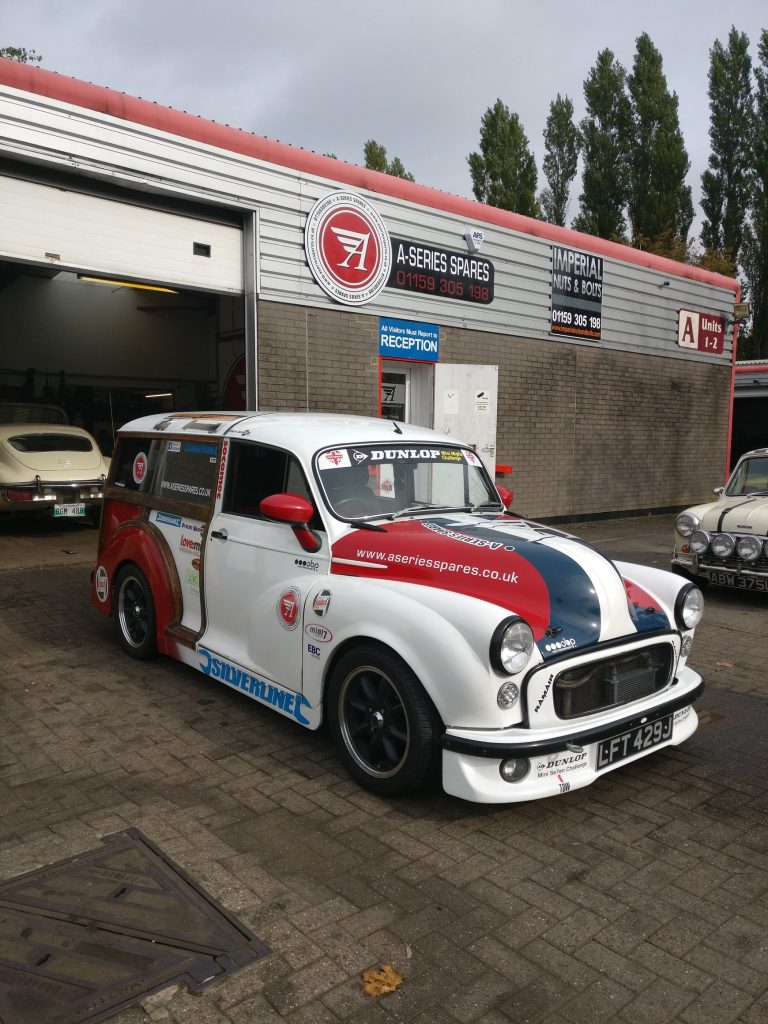 November is upon us, and for most classic car owners, the motoring season has come and gone. The leather driving gloves are folded neatly in the glovebox (if there is one), the Austin is tucked away in the garage and it's back to the world of fuel injection, power steering and things that aren't beige. As such, one would think that it would be a sleepy time of year for classic car specialists A-Series Spares in Ilkeston, Derbyshire. But when I turned up for a chat, the garage was abuzz with activity. Classic Minis with bonnet straps, a tuned MGB and a cream-coloured E-type Jag grace the shop floor.
The garage has gone from strength to strength in the eight short years it's been active, having built up not just a service and repair business but also a separate retail wing and tuning subsidiary. This means that even when the classic car servicing aspect dies down in the winter, there is plenty to fall back on. "There are three parts of the business now," explains owner Rob Stevenson. "You've got A-Series Spares; A-SD, which is building the engines and gearboxes; and then you've got Imperial Nuts and Bolts. The bolt side came about because we're playing with old cars and no-one stocks them anymore. So we started importing them and then suddenly we're one of the biggest importers of [nuts and bolts] from the States, so that's a business in itself, really."
The bolt retailing wing was initially started by A-Series due to the difficulties involved in sourcing decent parts for classic cars. "If you have to take the door off on a Mini and you bought new hinge bolts from a Mini parts supplier, a lot of the time the bolts that come through aren't very good so as you're holding the door and screwing it in, half the time the thread comes off." Now, the move has paid off. Rob sources his quality parts from American factories, and UK suppliers are some of his biggest customers. "Most of the suppliers in the UK are buying direct from us now. It's become quite big business for us."
Classic tuning
Imperial Nuts and Bolts is running under its own steam, but what Rob seems most excited about is the relatively new A-SD tuning brand. As he walks me around the workshop, I can't help but notice a finely-polished engine bedded in a black 1990 Mini. On the cover is an 'A-SD' logo. This example is one of A-SD's 'RS' engine packages, which offers a high-performance upgrade for standard Minis – or any cars based around the A-Series engine – without swapping in the larger 1,275cc variant, saving on costs. "It was easy to go to a scrapyard and drag out a 1,275. But the 1,275s were mostly used in racing and most of them have had the wotsit ragged out of them. Because they didn't make them for so long, the surcharge is around £600. So if you brought me one, I'd have to charge you £600 before I even started working on it!" Instead, Rob and the team eke as much power out of the existing engine as possible, boring the cylinders from 998 to 1,047cc before adding some final touches. "Use a really good head, good cam, and you're getting around 90bhp. Which is a lot in a mini."
In addition to engine upgrades, A-SD also design and develop specific components from scratch, such as aluminium radiators and security systems. There are even partnerships with certain brands – Magnecor for HT leads, Powerlite for starter motors and alternators, and Omega pistons for the performance builds, to name a few.
Evolving busines
Finally, there is A-Series Spares itself. CAT last spoke with the team back in 2015, and at the time the key feature was the garage's namesake – a focus on the service and repair of classic cars featuring the ubiquitous BMC A-Series engine – as well as a physical and online shop selling parts for customers to fit themselves. Although that focus is still very much there, there has since been some diversification in the models that roll onto the workshop floor. "In terms of cars in the workshop we get quite a good mix now. We get quite a few of the 70s and 80s Fords, and we're fortunate enough to have an E-type in at the moment, just brought in from the States. We do get interesting projects such as that." Another evolution for the garage in recent years is a move away from restoration. Rob no longer keeps body panels on the shelves for instance, and the team no longer do paintwork or bodywork. "We do small welding jobs and the wiring like on the E-type but full restorations aren't really for us. We tend to prefer work that turns around."
But although the restoration aspect is shrinking, the business is growing. Brad is an apprentice at A-Series Spares, succeeding two who have already come and gone. "They moved in to do their Level 3 qualification," explains Rob. "The Level 3 is heavily focused on electronics and diagnosing, and at the moment we can't offer the amount of work." This is where the garage's next big change begins, in order to keep apprentices on all the way through their qualification. "We thought we'd start doing that so Brad can stay with us." Over the next few weeks, two big ramps will be installed on the shop floor, and the diagnostic equipment is there already. Once everything is in place, the garage will begin offering diagnostic services for the newer BMW-owned Mini models. "Only in terms of diagnostics. We're not that interested in engine builds or bodywork, but the diagnostic work and general services – discs, pads or anything like that. There seems to be a shortage of people that can correctly diagnose," explains Rob. "We want to stay focused on the classics but equally do modern diagnostics."
The future
At the moment, the main concern for Rob and his team is marketing. A-Series Spares has a large footprint in online retailing, but spreading the garage's reputation locally is still a hurdle. "There's a lot of people that don't know us locally! Most people come in and go 'oh, how long have you been here?' With us being so heavily on the internet, it's amazing that people haven't done a Google search. It's quite a niche market and you just assume that people know that you're there without having to do the legwork." To this end, Rob and Brad have been attending local shows in one of the garage's tricked-out cars to hand out fliers, which has made a difference. In addition, there are plans to attend shows at the NEC in 2019 with an RS-spec car built at the garage. "It puts you slightly out of the restoration market, but it would be a car that someone could actually come and test drive," says Rob. Here's hoping we're there to see it.