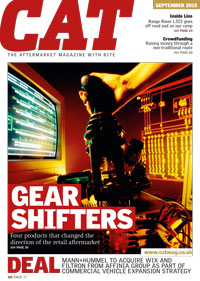 GEAR SHIFTERS: Four products that have changed the direction of the aftermarket
A look at four products that we think has changed the face of the aftermarket over the years
HOT STORIES
Mapco establishes its UK base
Auto Windscreens acquire AA AutoWindshields
Gates enhances security to protect against illegal copies
Automated cars are starting to get to grips with the terrain
New MOT system is causing issues
Keyless ignition security revealed after ban lifted
Mann+Hummel to acquire Wix and Filtron
OPINION
Wendy Williamson, CEO of the IAAF, on why the VMs need to take a varied approach when it comes to vehicle software.
AFTERMARKET KNOW HOW
How to avoid wasting money on saving dead stock
Is crowdfunding a new route to success
Was the summer budget a good deal for SMEs?
CAT's Inside Line: The Range Rover L322 is under investigation this month
STRATEGY: Injection and remanufacturing are in the spotlight this month
NEW GEAR
From accessories to workwear and plenty in between
AFTERMARKET LIVES
More tales from the workshop and the warehouse

CONNECTIONS

Out and about: Aftermarket events
Back in the day: 25 years in the CAT archives
Blast from the past – the classic adverts you know and love
And…
The CAT Month continues, where will the team be going next?
To receive your copy of CAT magazine, click here to subscribe or call the subscriptions team on +44 (0) 8451 557355