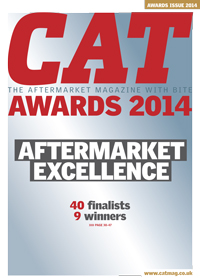 IN THE AWARDS ISSUE

AFTERMARKET EXCELLENCE! Meet the 2014 winners and read what they have to say about their achievements and the industry.
Plus

HOT STORIES
LKQ and ECP refuting the claims in savaging financial report
Apprentices could generate 300 percent return on investment
iAuto starts independent garage franchise rollout
Skidz's number plate venture will be funding training for the next generation
OPINION
Shaun Greasley goes sentimental over the value of the humble, but crucial product catalogue.
AFTERMARKET KNOW HOW
Dealing with competition and bad news
How to save money on your utility bills for your business
How to play by the rules when it comes to minimum wage
CAT's Inside Line: Ford Ka
STRATEGY: Braking, and gaskets are in the spotlight this month
NEW GEAR
From bulbs to transmissions and plenty inbetween
AFTERMARKET LIVES
More tales from the warehouse and workshop

CONNECTIONS

Out and about: Aftermarket events
Back in the day: 25 years in the CAT archives
Blast from the past – the classic adverts you know and love
And…
The CAT Month continues, where will the team be going next?
To receive your copy of CAT magazine, click here to subscribe or call the subscriptions team on +44 (0) 8451 557355